I don't know about you, but I'm always looking for a good way to clean the house! Well, Sarah Mae of likeawarmcupofcoffee.com has written a new e-book called
"31 Days to Clean - Having a Martha House the Mary Way."
There's even a "31 Days to Clean Challenge" throughout the month of May.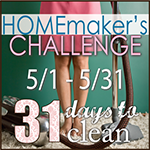 In addition to that, from now until midnight (EST) (today is Wednesday, April 27), if you tweet on Twitter or write on your blog about "31 Days to Clean," Sarah Mae will send you a free copy of her e-book! Click
here
for the details. That's what I'm doing, and I'm so excited to receive my free copy! (Getting a free e-book
works for me!)
Hurry and tweet or blog so you can get your free copy, too!
Happy cleaning!
Visit
WFMW
for some great tips. You can add yours, too!